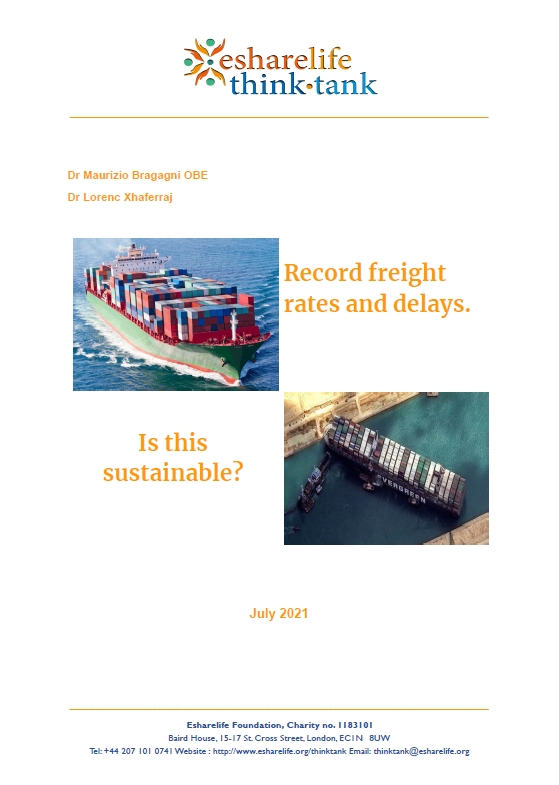 The world is living through unprecedented times, filled with numerous challenges imposed by the Covid-19 pandemic, which started some 18 months ago to date. Currently, container shipping prices have reached record highs, mainly due to the disruption of maritime logistics chains.

Highly congested ports around the world basically are running out of vessels and of empty containers, which due to supply chain disruption, again inflicted by the Covid-19 pandemic, are in the wrong place and not in Asia ready to be loaded.
As the world's economies are embarked on a gradual journey of economic recovery, a
consistently increasing demand for goods is expected to dominate the global markets. The
acceleration of demand, on top of lingering effects of the 6 days Suez canal blockage in
March, closure of Yantian port for about a month, and limited availability of port equipment
drove a further two digits increase on container freight rates and prices are climbing
everywhere.

It is reported in the media that some shippers in the market over recent weeks, in order to
comply with tough and critical deadlines, were willing to pay over $15,000 for a 40ft
high-cube from China to the UK and it is likely the prices will continue to climb higher.
Some analysts are blaming the Covid-19, which disrupted worldwide supply chains, others
are blaming the shipping companies on working in agreement to deliberately cause shipping
rates and price's hike, while many are worried about the scale of negative and lasting impact
of this situation on global trade. Ultimately, the next logical question is: how sustainable is
the current situation?