The Charity Commission and Fundraising Regulator have urged the public to 'give safely' to registered charities helping and supporting those affected by the invasion of Ukraine.
Esharelife Foundation is an official charity recognised by the Charity Commission. We consider it our priority to support our Regulator by sharing its concerns and guides to investing the most effective fundraising money for Ukraine.
Esharelife Foundation is founded on giving back principles and its goal is to create new and support existing opportunities for people living in the most disadvantaged areas of the world, to lift themselves out of poverty by empowering them to build a path toward a self-sufficient future.
The essence of our foundation is its belief in respect, dialogue, and collaborative and cooperative efforts.
The current events in Ukraine are telling the world the necessity for a stronger connection, solidarity, and for giving back to society.
This is why Esharelife has decided to collaborate with the British Red Cross in order to give a valuable contribution to the Ukrainian people that now need it the most.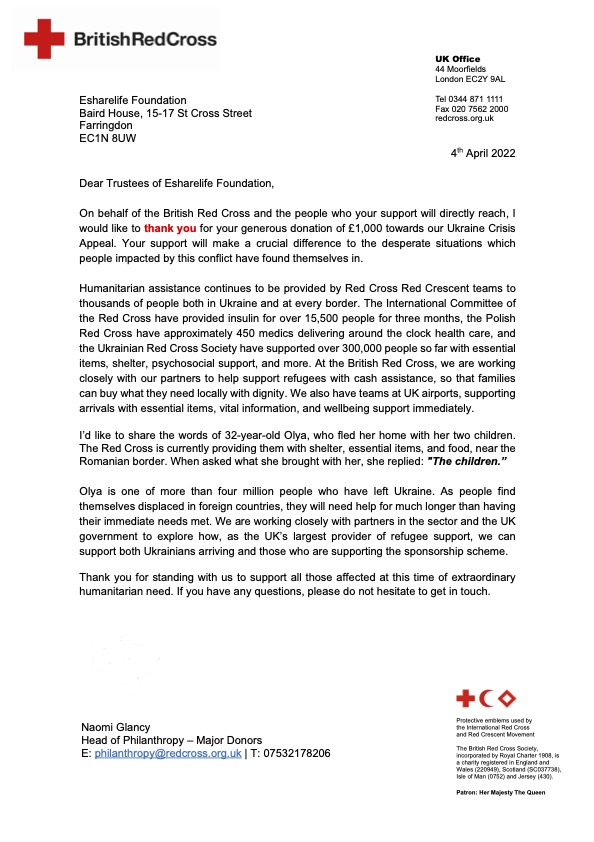 Since the Ukrainian war, Esharelife has kept supporting the British Red Cross and has made a new donation to the association in 2023. Discover more about it in this article.